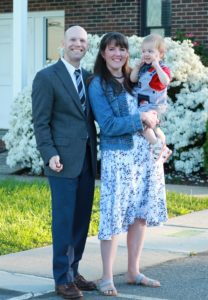 Jason and Carrie Windnagle have sensed God's call to military missions while serving in two churches: Emmanuel Baptist Church in Kings Mountain, N.C., and Haven Baptist Church in Kunsan, South Korea. Both churches have had a special role in God's calling, equipping, and sending into missions.  It was during his military service in Kunsan, South Korea that Jason Windnagle looked out at his fellow airmen and saw the field white unto harvest. Discipled by his pastor, Jason began to recognize God's call into the ministry.  After separating from active duty in 2018, Jason began seminary studies at Ambassador Baptist College. While pursuing his Master's degree in Biblical studies, Jason and Carrie became members of Emmanuel Baptist Church, their sending church, where they have served in several ministries.
Jason grew up in a Christian family. One Sunday morning around his 11th birthday, Jason realized his need for a personal Savior to save him from his sins and accepted Christ as his only hope of salvation. He found a quiet corner and prayed a simple prayer and God saved him. When Jason graduated from high school, he used his first year of college to pursue a foundation in his Biblical training. He later completed an undergraduate degree in Forestry, but God closed the doors to employment in that field and sent him into the military instead. When he joined the United States Air Force, Jason was determined to join the Tactical Air Control Party forces. However, God again intervened and sent him into a less desirable desk job that left him asking God for direction again. Thankfully, God led him to Haven Baptist Church by way of a deployment to Kunsan, South Korea! It was in this focused environment that Jason began to grow in his walk with the Lord. God clearly gave Jason a change of orders from the military into Bible training for the future purpose of military missions.
One of the important events that God orchestrated during Jason's time at "The Haven," was meeting Carrie who was also attending The Haven Baptist Church. Carrie grew up in a Christian home and had the privilege of hearing about Jesus in family devotions. She responded to the Gospel at the age of 4. God's Holy Spirit led her along through her formative years and convicted her that she needed to prepare to share the truth of the Gospel she had the privilege to grow up with. After graduating from Pensacola Christian College in 2005 as a missions major, God led her to Iksan, South Korea to work in a Christian school and church plant. After serving faithfully for 11 years. In God's perfect timing, Jason arrived at Haven Baptist Church just as Carrie began to transition out of the education ministry. Jason and Carrie were married on May 13th, 2017.
God blessed Jason and Carrie with their son Henry, on September 12, 2021. Since then, Jason and Carrie have become accustomed to their new name, "Henry's Parents." Henry loves talking and singing, being outdoors, and making friends. The Windnagle family is excited to serve with AFBM.
Location of Service:
South Korea
Reaching the military and their families