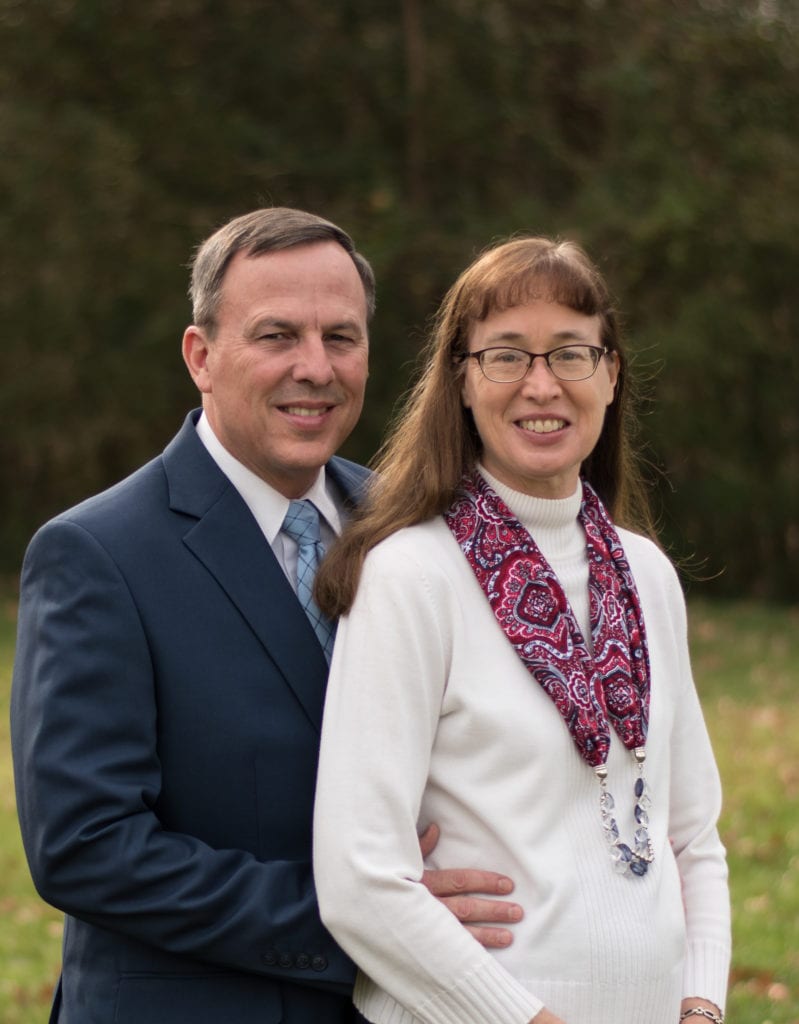 Kevin and Michelle are grateful to be a part of God's plan to reach our military members and their families with life changing Bible truth.
Kevin grew up in an unsaved home, and although he was briefly introduced to the Gospel as a young teenager, it would be several years before he would fully understand that truth. After a year of no contact with a former friend, Kevin was reintroduced to him during his sophomore year of college. That friend had been saved during their year apart and had also been carefully discipled. He was vocal and passionate as he shared his faith and the Gospel message with Kevin. Having witnessed firsthand his friend's changed life and his sincere concern for Kevin's spiritual condition, Kevin's heart was ready to respond to the truth of the Gospel. A Christian fellowship group at the college proved instrumental in helping Kevin to grow spiritually in those early years. That same group is where he met his future wife, Michelle.
Michelle grew up in a devoutly Catholic home in Massachusetts. She was very religious and sought to fulfill all the requirements of the church but became disillusioned with the lack of certainty of eternal life. During her freshman year in college, she joined a Bible study and from God's word finally understood Christ's death on the cross and put her faith in Him for forgiveness of sins and eternal life. Throughout her college years, she grew much in her faith through the Bible study and discipleship of a student Christian fellowship group.
After college, Kevin entered the US Army and God continually gave reassurance of that path for the Browns throughout a twenty-six year career. That journey included wonderful service opportunities at bases in the US and overseas. Michelle was by his side for more than twenty-four of those years and she fully supported Kevin and the soldiers and families under his watch care. Their most important decision after each of their frequent moves was determining God's will for a biblically sound church near their base in which they could serve. God answered their prayers every time and they came to realize the significant impact of those local churches on them personally and on each of their children.
In response to God's call to prepare for full-time service, Kevin completed seminary studies at Tabernacle Baptist Bible College and Theological Seminary. He and Michelle have served at Good News Baptist Church, the home of AFBM, in many ministries during their fifteen-year membership. That included the privilege of serving as the interim Pastor of Iglesia Bautista Buenas Nuevas, a Hispanic ministry of GNBC, for more than three years. Now, as they now join AFBM, they believe God will use both their military experiences and their ministry experience to help them as they serve alongside the wonderful servants in AFBM.
Kevin and Michelle have been blessed with six children and 9 grandchildren who are serving God in and through local churches near their homes, including two sons who are serving in full-time Christian ministry. Their oldest son, Matthew, and his family are missionaries in Cambodia and his middle son, Nathaniel, and his family reside near Chesapeake, Virginia where he serves as the Assistant Pastor of Good News Baptist Church.
God calls AFBM missionaries to serve in unique ways around the globe. Maybe He is calling you to have a special role in the Brown's ministry to the military around the globe. Please pray about partnering with them through prayer and/or financial support.
Location of Service:
Chesapeake, Virginia
Reaching the military and their families