Martha served beside her husband John for decades of service with Armed Forces Baptist Missions. Their life's passion was missionary service reaching our lost military heroes and their families. As a WWII Veteran, our former Deputation Director, and representative, John and Martha understood first-hand the challenges of our military families and the struggles they face. As a team, they served in Raleigh, NC as Veteran's homes' missionaries with an effective ministry to our elderly veterans and families. Their ministry continues to be a fruitful picture of our Lord's grace seeing people regularly saved in their eighties and beyond.
Martha was saved at a young age and upon graduating from college served as a missionary to the nation of Japan. She and John met in 1962 and were married the following year. They faithfully served together until John's passing in May of 2019, but Martha continues strong in the missionary work God called her to. She is the consummate help-meet and a friend to everyone she has ever met.
Martha
• AA in secretarial
• BA in Missions and Elementary Education
God calls AFBM missionaries to serve in unique ways around the globe. Maybe He is calling you to have a special role in John and Martha's ministry to Veterans. Please pray about partnering with them through prayer and/or financial support.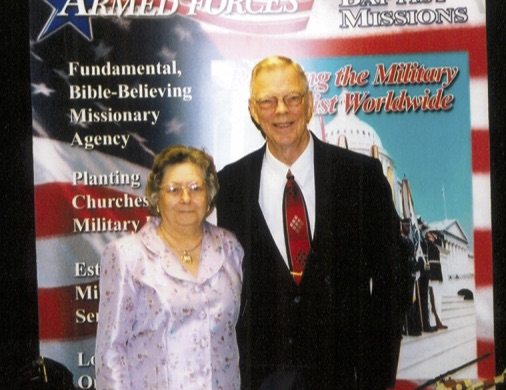 Location of Service:
WENDELL, NORTH CAROLINA
Bible Study Leader
Reaching all Branches and Veterans
Contact AFBM to learn more about Martha's ministry.
Armed Forces Baptist Missions 3252 Taylor Road Chesapeake, VA 23321